WSF World Strongman Championship U110 kg held in town Khust (Carpathian Ruthenia, Ukraine) on 21 of August. More than 2 thousand spectators were watched strongman competition. 20 athletes from 8 countries participated in the World championship.
3 athletes competed under WSF flag (from Russia & Belarus). Guests of honour & judges: Magnus ver Magnessen (Iceland) 4-time World Strongest Man – head referee, President of FSU is 2-time WSF World Champion u110kg Serhiy Konyushok (Ukraine), honorary president – 2004 World Strongest Man and 2007 IFSA World champion Vasyl Virastyuk (Ukraine), Roman Zazhirko (Ukraine) – referee and Vladislavs Redjkins (Latvia) – General secretary of WSF.
Champion title won Ukrainen athlete – Pavlo Haisha, David Shamey (Russia) WSF World Championship 2019 – winner took 4th place finnally. The question about world crown was open until the final disciplines!
Final results:
Pavlo Haisha (Ukraine)…………………..29
O. Biriukov (Ukraine) ………………………28
G. Laniewski (Poland) …………………….28
D. Shamey (WSF, Russia) …………………27,5 ( -1 point for +1kg in weight)
M. Czajkowski (Poland) ………………….23.5
Y. Ohonovskyi (Ukraine)……….………..21
V. Herasymov (Ukraine)………………….21
M. Wrzesinski (Poland)………………….18
Y. Nastenko (Ukraine)…………………….16,5
I. Yermachenkov (Ukraine)……………..6,5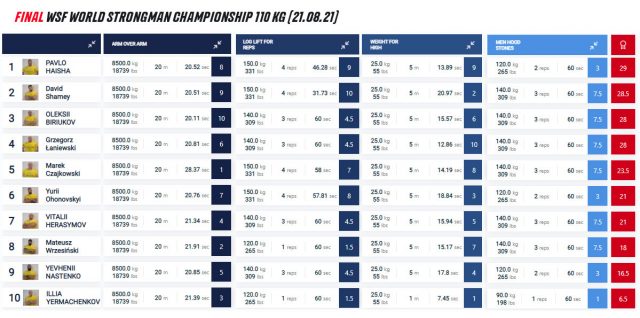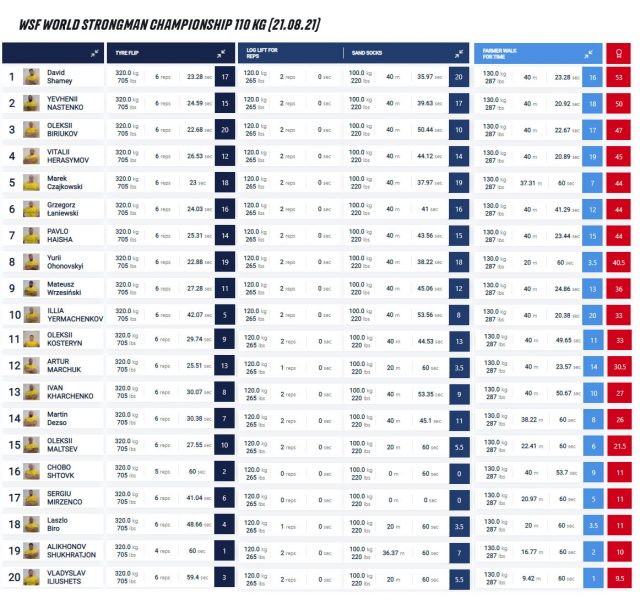 Ukrainian strongmen pull world's largest plane to set record!!!
A group of eight Ukrainian strongman athletes set a national record on Thursday (August 26) by pulling the world's largest and heaviest cargo plane AN -225 "Мрія" – 330 tn. video: https://reut.rs/2Wqrx4Q